Imitation of Christ is Resurrected in Hollywood
Tara Subkoff's cult Noughties fashion collective that pioneered the upcycling movement is back
Contributor: Rachel Marlowe
Founded by Tara Subkoff and Matt Damhave as an art collective twenty years ago in New York City, Imitation of Christ quickly gained cult status thanks to its irreverent attitude and cool girl following. Their first fashion show was held at an East Village funeral parlor complete with a casket and model-as-mourners, Chloe Sevigny came on as the brand's creative director the following year and modeled in the shows alongside Scarlett Johansson, while the likes of Lou Reed and Natasha Lyonne sat in the front row. In 2006 however Subkoff sold the business to Rockwood Management Group, which shut down the brand two years later.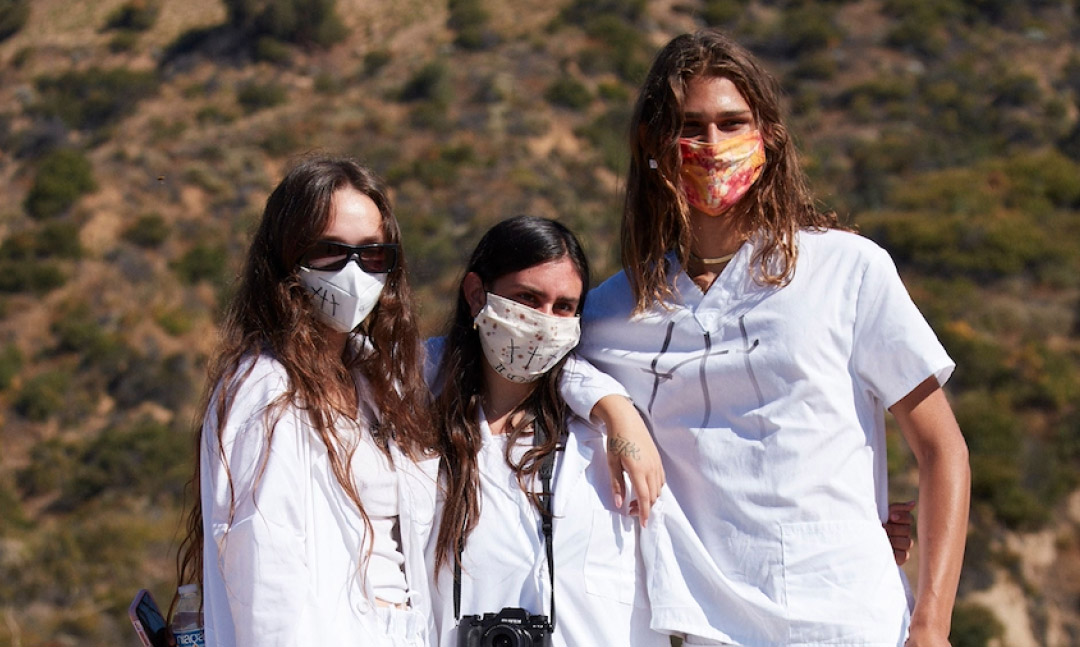 Now, after being dormant for almost a decade, IOC has been resurrected with the help of new creative directors Lulu Syracuse, Jersey Bond and Hudson Schaetzke. "I feel like we've been reborn," said Subkoff who is now based in Los Angeles. "I'm a Buddhist and I believe in multiple lifetimes." The collection created entirely during quarantine, first over the phone and then designed and hand sewn in Subkoff's backyard, harks back to the brands roots in recycling, customizing and updating discarded clothing and marks the second coming of the conceptual couture brand. "I think we were the first to use the term upcycle to mean taking the most unwanted piece in your closet and transforming it into something you love," said Subkoff. "That concept is even more relevant today as we clean out our closets during quarantine. Instead of making new things take something old and making it new again by putting energy, creativity and art into it."
"I think we were the first to use the term upcycle to mean taking the most unwanted piece in your closet and transforming it into something you love."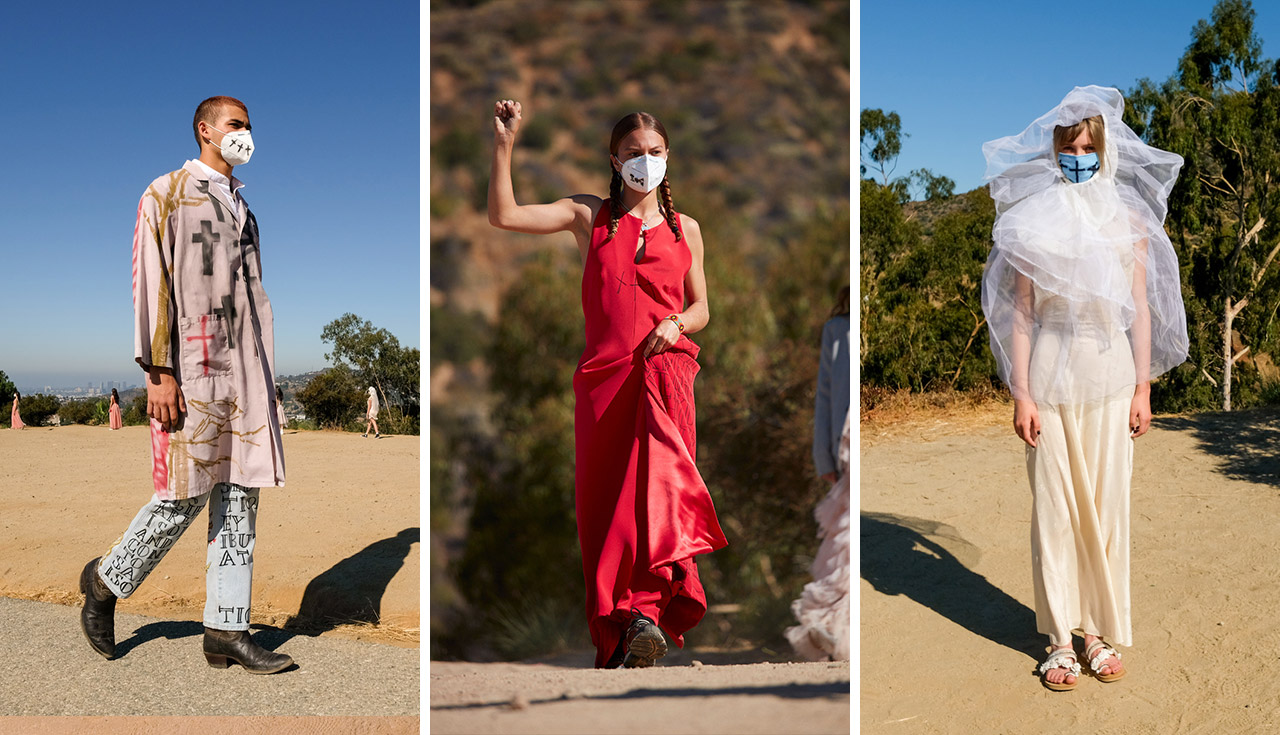 Dubbed "Americans Not Allowed in Paris"  following the news that residents of the United States will not be allowed to enter the European Union for the foreseeable future or the Haute Couture presentations that usually take place in Paris during July,  the 'rebirth' took the form of a socially distanced, guerilla-style outdoor show early Saturday at the foot of the hiking trail leading up to the Hollywood sign. As helicopters buzzed overhead, models (a mix of the designers' friends and family all wearing customized face masks) showed off a collection of evening gowns, bolero jackets, jumpsuits and trench coats all created out of thrift store finds and cast offs from Subkoff's closet, along with jeans and t-shirts embellished with slogans such as "The more you consume, the less you live" in IOC's signature font. 
"As artists, designers and young people with our lives in front of us and currently on hold we want to say something and to create,"
"This is the first live fashion presentation [in the US ] since Covid started and everything was done as safely as possible, outside with masks and social distancing,"  said Subkoff, who as an asthma sufferer is in the high risk category. "It's the hardest fitting I've ever done in my life out in my yard in Beachwood Canyon in the sun and we will all be getting tested as soon as this is over." The one-of-a-kind pieces will be auctioned off on Instagram over the coming weeks with 50% of the profits going to Direct Relief, a charity that protects those under threat from disaster, disease and poverty, and Fridays for Future, the international climate movement founded by Greta Thunberg.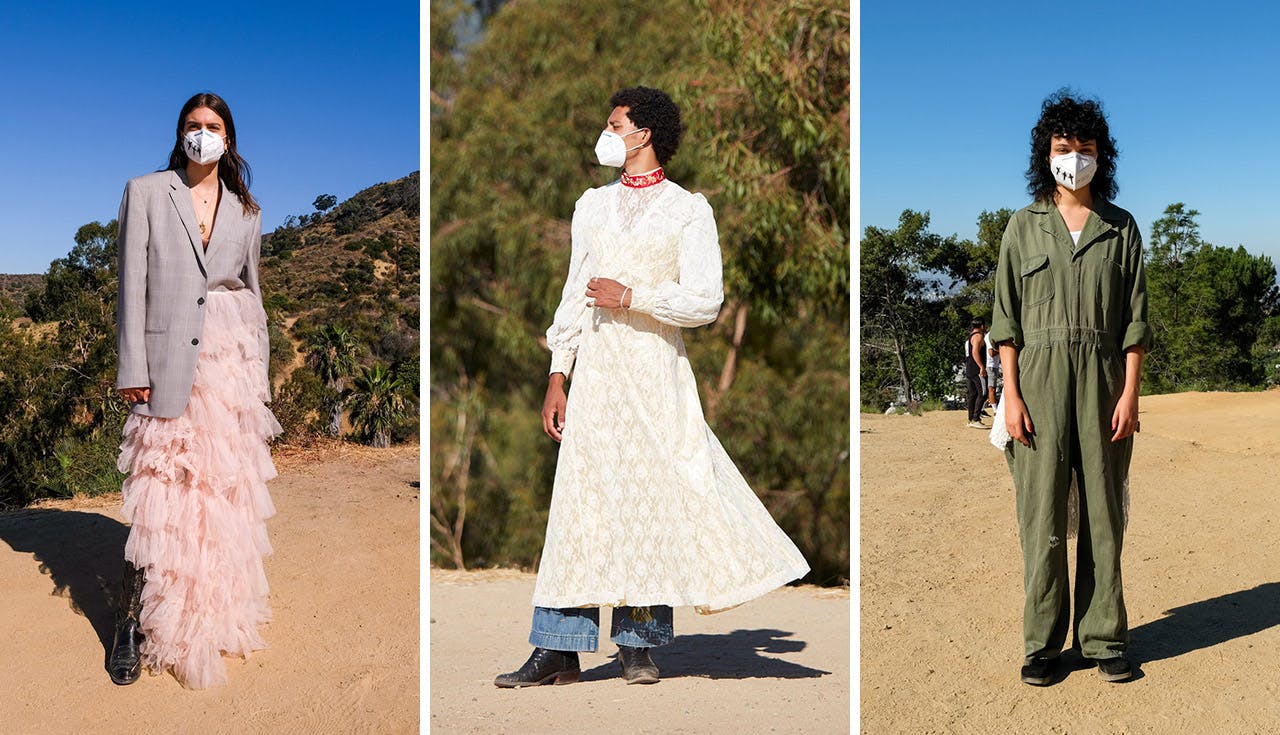 "As artists, designers and young people with our lives in front of us and currently on hold we want to say something and to create," said Subkoff as the show wrapped up (come 9am temperatures were rising and traffic cops were handing out parking tickets). "We hope this goes beyond words and slogans and supports a new generation of young creatives resurrecting this conceptual house."